Every two years, the results from the National Assessment of Educational Progress (NAEP) are released. Known as "the nation's report card," NAEP provides the largest and most comprehensive data on student performance in all fifty states. While no testing system is perfect, and any results from a sample have a margin of error, this is the most accurate snapshot we have to understand outcomes in our schools across the country. This year's results contained a bombshell finding in Colorado.
When compared to all fifty states, Colorado's public charter schools outperform the nation in both 8th grade math and 8th grade reading. It is important to note that Colorado public charter schools serve a higher percentage of students of color and English Language Learners (ELL) than Colorado's traditional public schools.  And public charter schools receive less funding on average than traditional public schools. These schools are tuition-free and open to all students. The charts below show how Colorado's charter schools stack up against all fifty states: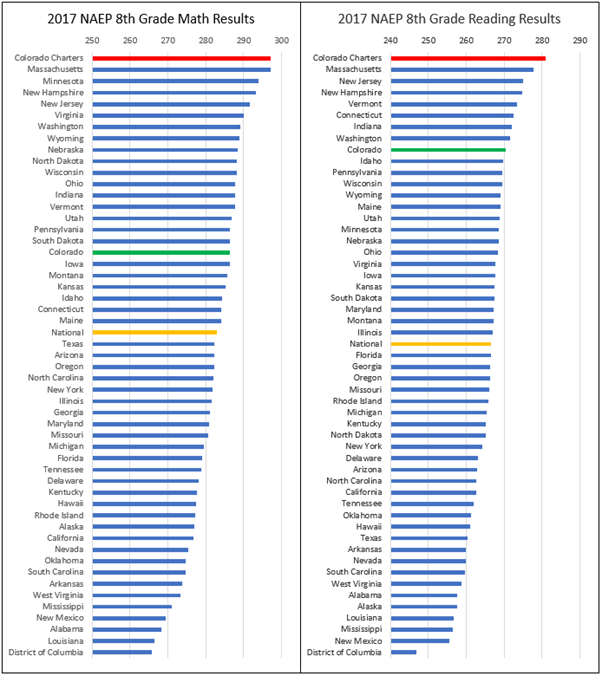 *It should be noted that the overall Colorado ranking also includes charter results.
Colorado's charters also outperformed most other states on 4th grade math and reading.
There are approximately 250 charter schools in Colorado serving around 120,000 students. These results are a testament to the hard work of public charter students, teachers, and principals. It proves that no matter what a child's socioeconomic status, race, or zip code, they can learn and be successful in school. We will continue to analyze the data to help inform the public on the impacts of school choice in Colorado.